Dream Travel is very excited to add the Schneider Electric Paris Marathon to our race line up for our 20th anniversary!
Since 2004, Dream Travel, a Canadian business, has been offering guaranteed entry packages to various Abbott World Marathon Majors and other exciting marathons and races around the world, but 2023 will be our first year offering this marathon.
Dream Travel will not be on site for this event.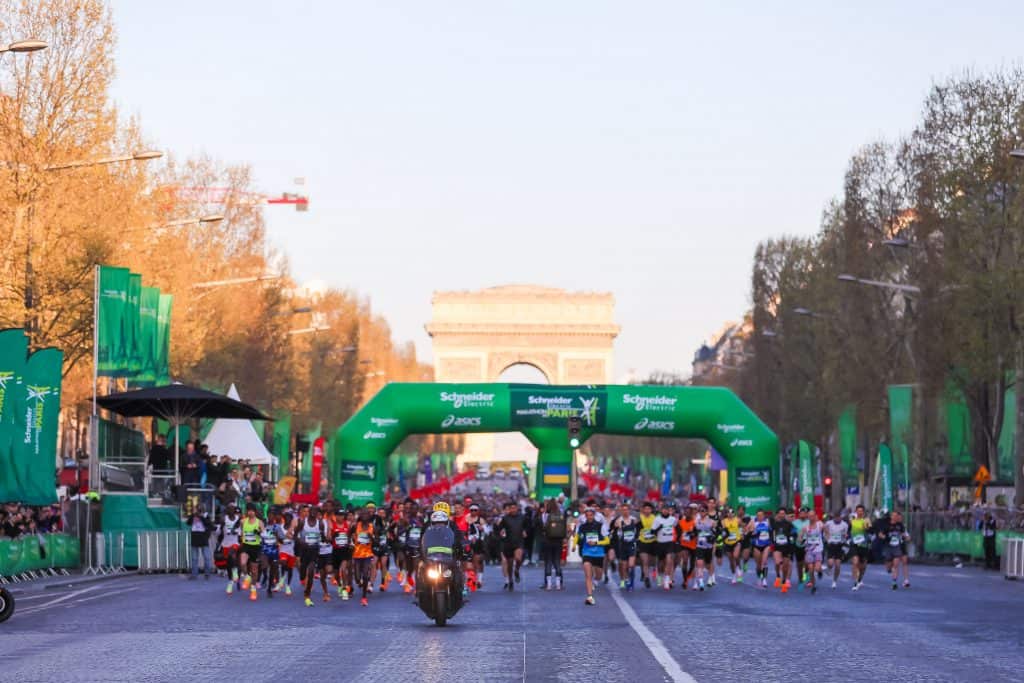 Where: Paris, France
Date: Sunday, April 2, 2023
Time: TBD

Race Expo & Race Kit Pickup:
Run Experience Fair
Bib pickup from March 30 to April 1, 2023
*All runners MUST attend the expo in person in order to obtain your bib.  There will be no race day bib pickup!
LOCATION
Champs Elysées.
DEPOSIT AMOUNT:
$500 Per Runner
*Deposit is applied towards the package amounts.
How To
Step 1 – Have us quote you hotel options and prices
Step 2 – Place your deposit on the Running Room website
Step 3 – Dream Travel will book your chosen hotel and send follow up information
Step 4 – Get training! You're running the 2023 Schneider Electric Paris Marathon!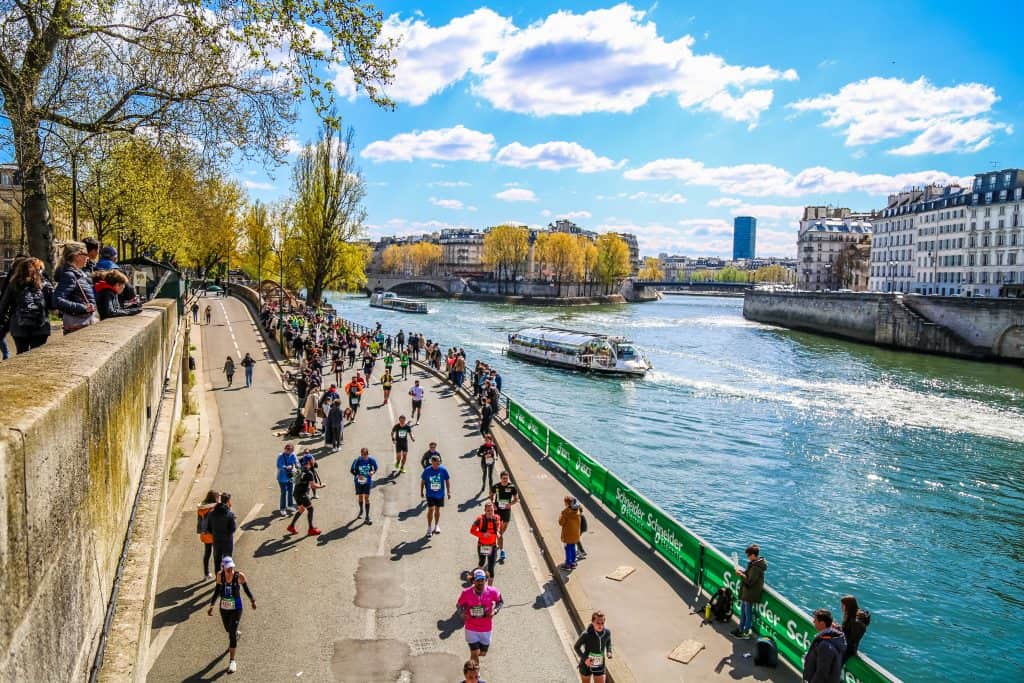 Who May Purchase?
Anyone who will be 18 or older on Sunday, April 2, 2023 may purchase one of our guaranteed entry packages.
Deposit
A deposit of $500 per runner in CAD plus the Running Room processing fee will be charged upon registration using the Running Room's online registration form.  The balance of your package must be paid no later than January 1st, 2023.
Deposits are non-refundable so we highly recommend travel insurance.
Packages
We will provide guaranteed entry only as part of a complete package which, at a minimum, must include 3 nights hotel. We are not permitted to sell entry only.
What's Included in Your "Runner's" Package
Guaranteed entry into the 2023 Schneider Electric Paris Marathon
3 nights or more at the hotel of your choosing
Finisher materials: medal, food and beverages, heat sheet
A clothing bag OR a voucher for the poncho on your bib number (depending on what you have chosen at your registration)
After You Register
After you register on the Running Room website and pay your deposit, Dream Travel will contact you to complete your registration process via the email address you provided. You must ensure that your email address is correct and you are responsible for monitoring it closely as Dream Travel will contact with everyone via email.
Medical Certificate
Each runner will need to have a medical certificate indicating that they are able to run.  You can download a copy of an accepted letter to take to your doctor by clicking here. This must be uploaded no later than March 15, 2023.
Cancellation Policy
As the Schneider Electric Paris Marathon does not permit refunds, cancellation or deferral unless they cancel the event, our packages are non-refundable without insurance and entries may not be deferred.  However, we do appreciate that things can happen and we will do the best to help you if you need to cancel.
If you need to cancel AND we are able to resell your entry package prior to the marathon's registration deadline, the following fees will apply:
$100 – until December 31, 2022
$150 – Jan 1, 2023 until registration closes and assuming we can resell your package.
If you cancel after registration closes and/or we are unable to resell your package there are no refunds or deferrals.

Note that these fees are refundable if you purchase insurance and cancel for an insurable reason.
Insurance
Each year we have many people cancel due to unforeseen circumstances who did not purchase our travel insurance meaning they end up losing their package amount.  Protect yourself and your money by purchasing our Group Insurance through ManuLife.
With our insurance you will be able to cancel for insurable reasons as well as running injuries while training and we also sell a Cancel For Any Reason policy!  We offer various other insurance packages including Cancellation, Interruption, Medical and Baggage. For full details on coverage, please click here: Manulife Financial.
If you receive a message saying the site is down, please use a different web browser or platform.
Please note that the insurance coverage that you may have on your credit card will not cover you completely! We are unable to process insurance for those living in Quebec – please contact your local travel agency for coverage.
Not Included with your Package
Travel insurance, airfare, meals and items of a personal nature are not included in your package.
We can book almost any hotel for you in Paris assuming there is availability for the nights you are interested in staying.  Just let us know what nights you want, if you are wanting one bed or two in the room, how many people will be in the room and if you want an economic hotel, midrange or a luxury property.
Keep in mind that the closer to the Start/Finish area or the longer you wait to book, the more expensive the room and availability will lessen.
Pricing
Prices are in Canadian Dollars  and packages are based on a three night hotel stay for 2 adults and include one marathon entry.  Additional nights may be purchased either before and/or after the weekend as well.
Pricing is listed as "from" as rates depend on hotel availability and pricing at the time of your booking.  We will send you current availability and pricing once you let us know which hotel(s) you are interested in.
3 NIGHT PACKAGES
GUARANTEED ENTRY & HOTEL
Recommended Itinerary
Thursday March 30
We recommend that you land in Paris no later than Thursday as you'll want to get over jetlag so that you have a great race weekend!  As well, you'll want to consider possible flight delays.
Friday March 31
Dream Travel will have a short, easy group run Friday morning along the Seine.  Friday afternoon you'll want to pick up your bib from the expo.
Saturday April 1
Get those feet up and relax.  Those arriving into Paris late will need to pick up their bib today and as early as possible.  This is the busiest day at the expo!
Sunday April 2
Race Day!
Monday April 3
Time to stretch those legs, do some sightseeing and show that medal off with pride!
Frequently Asked Questions
Can you book my flights for me?
Anyone who purchases one of our packages can contact Yumi at Travel Best Bets 1 877 523 7823 ext 122 or [email protected] to have their flights booked.
What are the minimum three nights we have to stay?
You may stay any three nights although the majority of the group will stay Friday, Saturday and Sunday nights in order to get to the expo and so that you won't have to check out prior to running the marathon.
What's the weather like?
Average April temperatures in Paris average between +8 and +17 degrees Celsius. Perfect for running!
How do I get to the start line and back to the hotel after the marathon?
This ultimately depends on what hotel you choose.  In most cases you can walk to the start and back after finishing unless you chose a hotel that's further away.  If so, we recommend you check this page for public transportation options.
If you have any questions about the 2023 Schneider Electric Paris Marathon or our packages, please contact us at:
[email protected]
Phone: (877) 601 7275